In-House & Mobile Services
Dependable has built a long-standing reputable company based on producing quality products and providing full service and quality repairs since 1975. All vehicles are serviced by our highly skilled and qualified technicians – fully licensed and EVT certified. Our technicians undergo intense training to meet industry standards. We stock a wide range of parts and equipment to get your fleet back up and running with minimal down time.
At Dependable we welcome all your apparatus needs for maintenance, service, and repair.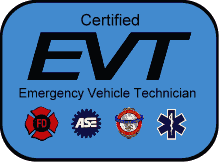 ---
Apparatus Maintenance and Service
Annual pump tests
Scheduled maintenance
Pump overhaul
Annual DOT inspections
Accident repairs
Vehicle body repairs and refurbishing
Custom fabricated metal products
Electrical troubleshooting and repair
Poly tank repairs
Corrosion repairs and prevention
Custom stripping and lettering
Lighting packages
State-of-the-art paint facility
LONG AFTER YOUR PURCHASE, OUR SERVICE CONTINUES!
---
Dependable Emergency Vehicles warrants every apparatus we manufacture.
Our in-house service center can attend to all of your needs for warranty servicing for manufacturer recalls, in addition to being a authorized dealer and repair shop for: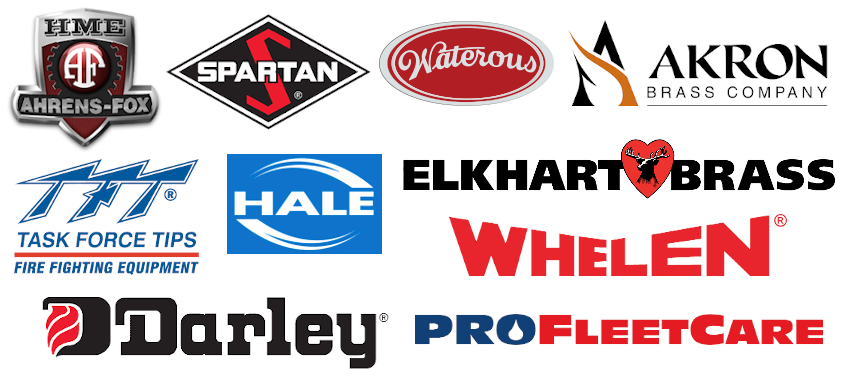 ---
Pump Testing - In-House & Mobile
Pump tests are conducted by experienced EVT certified technicians who will provide a full written report for your records. Pump testing can be done at the firehall or another desired location with no apparatus or personnel downtime in the event of a fire call. Pump testing can be performed from draft if required up to 6000 LPM on site or up to 10,000 LPM at our facility.
Our pump test includes checking all chassis and pump fluid levels, all CMVSS and emergency lighting, check all pipes for leaks, inspecting all handles, bleeders, drains and valve operation, checking pump shift operation, perform vacuum test and relief valve operation and pump packing adjustments.
---
Ladder Testing - In-House & Mobile
Our ladder testing equipment and procedures are certified to meet the current NFPA 1932 requirements for annual ladder testing.
Ground ladder repair and maintenance on all makes and models as per NFPA 1932
Aerial ladder inspection, repair, and maintenance as per NFPA 1914
In stock Duo Safety replacement ladders in various sizes available for immediate delivery
Full written report for all ladder inspections
Ground ladder repairs that require welding – next day service (in-house only)
NDT inspections and testing on aerial ladders
---
Additional Services Available:
Repacking the pump
Antifreeze valving & pump
Adjusting pump packing
Setting relief valve microswitch
Winter shut down procedures
Changing oil in pump gear case
Checking the cooling system
Operation of by-pass valve
Operation of the relief valve
Operation of a heat exchanger
Foam pump calibration & service
Tank flow testing
---
We look forward to servicing you! Contact us today to schedule your appointment.
In-House service requests: Warranty & Mobile service requests:
Joe Cabral - Service Manager Tom Furtado – Warranty & Mobile Service Manager
Phone: 647.628.3676 Phone: 905.453.6724